Top 5 virtual arts picks: teen workshops, 'Black and White: The Absence of Color,' community concert
Editor's note: This press release was provided by County Legislator Terry Clements.
ONGOING: ArtsWestchester's Virtual Teen Workshops
ArtsWestchester's Teen Tuesdays and Thursdays program has gone digital and offers new art-making workshops led by professional teaching artists each week. In the latest workshop, artist Dhanashree Gadiyar teaches participants about Indian folk art by creating art using a common household item: coffee. All of the workshops are available on ArtsWestchester's YouTube channel.
NOW THROUGH MAY 26: Virtual Exhibition: Black and White: The Absence of Color
New Rochelle Council on the Arts presents a virtual exhibit, Black and White: The Absence of Color, on view on the Council's YouTube channel. The exhibition features monochromatic works by four local artists, including ink and graphite drawings on paper and manipulated book sculptures. The six-minute video allows viewers to watch curator Judith Weber as she guides them through works by the artists.
FRI, MAY 8: Fruit Still Life Collage with Donna Ross 
Pelham Art Center will provide a Fruit Still Life Collage workshop with artist Donna Ross via Zoom. Ross will explore the different collage art techniques and show participants aged 8+ how to make a still life of fruit using mixed media and collage. Begins at 10:30am.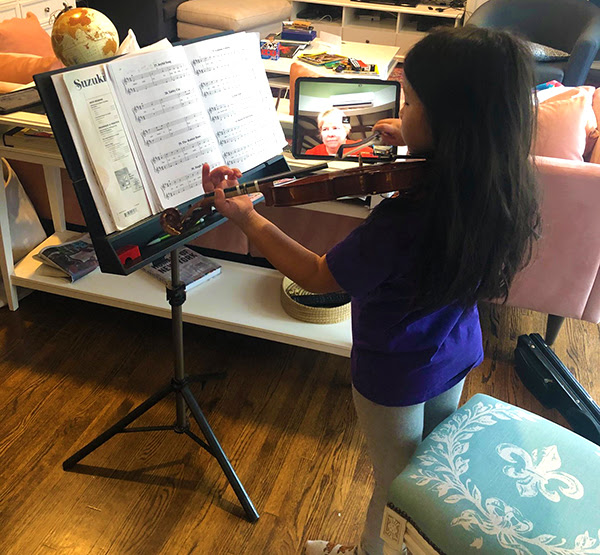 FRI, MAY 8: A Virtual Concert for the Community 
The Music Conservatory of Westchester will present "Keep the Music Playing", a virtual concert for the community which will be streamed online on the Conservatory's YouTube channel this Friday. More than 100 Conservatory students, faculty members and special friends of the organization are planned to participate with musical performances from their homes. Begins at 12pm.
MON, MAY 11: Online Tech Talk: Instagram for Artists
On Monday, Clay Art Center will host a new online tech talk: Instagram for Artists. In this one-hour program, the Center's Artist In Residence Austin Coudriet will show artists how to join Instagram, post and share images of their work, and get involved with the online clay community. Begins at 7pm via Zoom.